1. I wrote a post Friday night after an awesome evening. But I've been too busy (and lazy) to upload the pictures that go with it. Maybe by next Friday???  Here's a preview:
2. It's HOT here! Yesterday afternoon my car read 104. Today the high is 105. And of course today was the day Baby Girl asked if we could walk to the park. I hate saying no to that, but it's just too hot!
3. This morning I ran outside. I don't really like going out before the sun is up, but I knew I had to get out there early today. Halfway through my run I decided to go to the gym for the next few days. Then I can watch the Olympics while I run. And it's air-conditioned! It's a win-win! (I think people would write FTW here, but I'm not one of those people.)
4. We met new friends this weekend. No pictures. I didn't know what new friends would think of me taking pictures of them.
Baby Girl got to play with a friend at the pool in the morning, and then she met another new friend in the afternoon. The day encouraged me!
5. Of course church was sort of discouraging again. I just want to walk into a church and feel at home. Every Sunday morning I wonder if this church search will ever end! There's gotta be one out there that we like!
6. Today my man and I celebrate seven years of marriage. As I said on my facebook status, "7 years, 6 houses, 3 states, 2 kids". We talked last night about all that we've been through in 7 years and wondered what the next 7 years would bring. My man said that we might be in this same house. We can't fathom living in one house that long!
Funny, 7 years ago I thought it was hot! Fast forward 7 years and that heat's got nothing on what we've got today.
Happy anniversary, babe! I look forward to lots more years with you (but maybe not so many moves).
7. Today, in honor of our anniversary The Cheesecake Factory is having half price cheesecake. And they're debuting their Oreo cheesecake. All for our anniversary (or National Cheesecake Day…same thing)! So, thank you Cheesecake Factory! We can't wait!
Look at that, 7 randoms…dedicated to you, babe! Love you!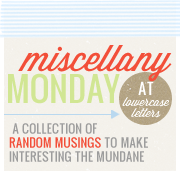 4 Comments on "Monday's Randoms"
Trackbacks for this post
Got something to say? Go for it!