Yesterday I took the kids to play with a friend and her daughter. We have a toy store that has a play room, so we met there. As we were leaving I almost stepped on something. I looked down and it was a $20 bill. I kind of got flustered. What should I do with it? My friend said, "Keep it." A lot of options ran through my head, including the one where people say it's there money but it really isn't. The other option was toting my hungry, tired kids around the store and asking every patron if they lost some money. Neither option appealed to me. So I took the money with me. I felt so guilty about it. I think because I pictured the person who lost it running around frantically or crying. Then I realized maybe $20 wouldn't mean that much to someone else. If I lost $20 I would beat myself up for days. That's a lot of money in our budget. I even called my mom feeling guilty. She convinced me that I should look at it as a blessing. So I did. I treated my family to a dinner out last night. We had some things to celebrate anyway. (Baby Girl went to the dentist…no tears, no fighting, just a brave, sweet girl!) We enjoyed having a waiter, not doing dishes, and taking home enough food for today. What a blessing!
The extra special things in life are definitely a favorite, so I'm linking up with Rachel today!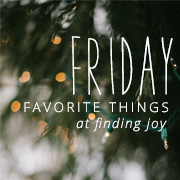 Got something to say? Go for it!