* I spent almost $20 for lunch at the airport yesterday. Highway robbery! But when you've been up since 4:30, you gotta eat.
* At this point, my kids have flown several times each, so I feel that I have it down to a science now. I know what foods I can bring for them, what foods they need to see at security, what outfits are easiest for us to wear. When Baby Girl was a baby they made me take off her shoes at security. Thankfully they've changed that now! Really, though, we enjoy flying. It's just exhausting…have I mentioned that yet?
* Buddy hasn't slept well since we left. I think he's overtired. Hopefully we get back on track (maybe even a better, sleeping-through-the-night track) very soon!
* I have several activities I want to do this week, leading up to Easter. I need to find Easter basket goodies, buy ingredients for a few baking projects, and clean for my in-laws' visit. Good thing I am refreshed from my relaxing weekend. Ha!
* I realize this is up for debate, but in my humble opinion, I have the sweetest, cutest, funniest children. Buddy started blowing raspberries while eating. He's figured out peek-a-boo with his blanky and sometimes does "How big is Buddy?" Then there's Baby Girl. Last night she directed a choir with a stick she found. Then she bowed and said, "Thank you, ladies and gentlemen." Where does she get this stuff?
* I've been trying new styling methods with my curly hair. They've worked wonderfully up north, but I felt like my hair was HUGE  in Texas! My man told me it looked good. It was just so much bigger than I'm used to.
* My man's Ohio State lost Saturday. My Huskies lost last night. Now neither of us care about the national championship games. But Bones starts again tonight! I love Bones!
* Enjoy your week!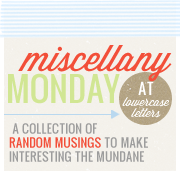 2 Comments on "Miscellany"
Got something to say? Go for it!