I wanted to have pictures, but you know…sometimes it just doesn't happen. I probably have the pictures on my computer, but I only have about 10 minutes before Buddy will wake up ready to eat. So…here are my pictureless favorites.
1. A day of cuddling with Baby Girl
We spent Wednesday on the couch. She would sleep, watch PBS, cuddle, cry, tell me "I need you, Mama." I don't like her sick, but I loved cuddling with her!
2. After the cuddling, a happy Baby Girl.
She woke up so happy Thursday. She was still a little worn out, but she was happy, eating, and feeling better. Yay!
3. Listening to my man and Buddy giggling
Buddy has had several steam showers this week, and during last night's I heard his daddy and him giggling. So sweet.
4. I completed 3.1 miles yesterday!
I just needed to do it once to boost my self-esteem for tomorrow's race.
5. Taking pictures of my kids in their Halloween costumes
We've gotten to wear them twice already. They are cute…if I do say so myself!
What are some of your favorites this morning?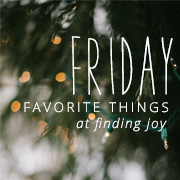 3 Comments on "Friday Favorites"
Got something to say? Go for it!